Never Miss Another Opportunity
Because No One Answered The Phone
Augment your team with a professional staff who answer your phones just like your employees do.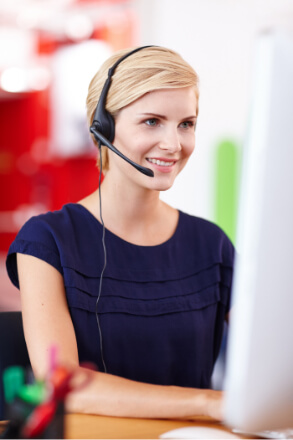 Reception
Business hours
After hours
Overflow
Sales
Take initial calls & forward hot prospects to your sales team
Take orders
Answer product questions
Customer Support & Service
Walk customers through problem solving
Create support tickets
Answer How-To questions
Dispatch service personnel with tracking & follow up
Available 24 x 7 x 365
Plus, Live Chat for your website
Not an Answering Service
DSXLIVE! is an augmentation service staffed by experienced professionals trained in sales, customer service, customer support, and in the way you do business. Our purpose-built facility, design and layout of our agents' workspaces, and the hardware they use, all create a quiet, professional environment, just like your office –
No bullpens
No background chatter
No barking dogs, TVs, or crying children
Our staff is extensively trained in our state-of-the-art training center, in the way you operate: how you handle prospects and customers, how you deal with customer problems, how you explain your products, and every other aspect needed to provide outstanding service.
When your customers and prospects call, they will never know whether they are talking with someone at your site or ours.
We're Part of Your Team
Whether its how callers are greeted, how a product is described, or how a customer's problem is addressed, we do things your way. DSXLIVE! functions transparently as a seamless extension of your team, handling your calls the way you and your staff do.
We use your protocols, your terminology, your templates, and your style to deliver an outstanding customer experience every time.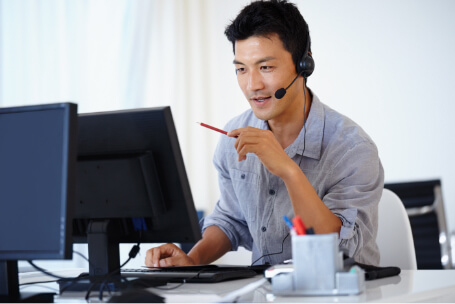 A Few Examples:
Order Taking – a customer calls to buy a product, but is not sure which model he needs.Your DSXLIVE! agent asks the customer questions based on the same training and documentation your own sales team uses to guide the customer to a decision, takes the order, and sends it to you.
Inbound Sales – a prospect calls wanting information and pricing.Your DSXLIVE! agent walks the prospect through your qualification protocol, captures their information, determines level of interest, purchase timeframe, and any other data you want, and, based on your protocols, determines what to do with the prospect – such as, setting up a call-back and booking the call with your sales team, forwarding the info to a specific salesperson, or any other actions you define.
Customer Service – a customer calls with a billing issue. Your DSXLIVE! Agent talks with the customer, giving them a chance to vent, if needed, captures all of the appropriate information, sends all of the information to your accounting department, and, depending on your protocols, transfers the customer to the appropriate person or tells the customer that they will be contacted within one business day, for example.
Troubleshooting – a customer calls with a product problem. Your DSXLIVE! agent walks the customer through the same questions and actions that your support team uses to determine severity, probable causes and to resolve the problem.If the problem is not resolved, based on your protocols, the agent either logs the problem and sends it to your support team, schedules a call with someone on your team, or transfers the call to a support rep 24/7/365.
Dispatch – a customer calls and needs service at their location. Based on your protocols, your DSXLIVE! agent can dispatch a technician via phone, email, and/or SMS, get an ETA and relay it to the customer, stay on top of the situation and keep the customer informed until the technician arrives, and follow up with the customer after the service call to see that they are satisfied.
A Fully Integrated Feature
DSXLIVE! is an optional fully integrated feature of your DSXVOICE phone service, not an afterthought or a bolt-on. DSXLIVE! is actually an extension on your phone system, so you can build it into your call flows, the same way you do with ring groups, auto attendant, and call queues.
You can also route calls to DSXLIVE! manually or automatically based on time-of-day, day-of-the-week, or any other forwarding rules.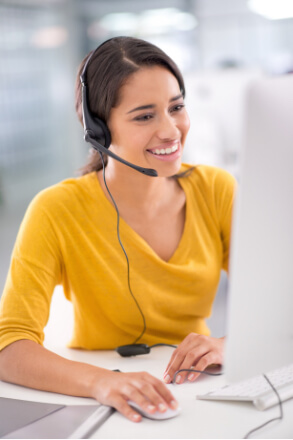 Direct Transfers – Unique to DSXLIVE!
Because DSXLIVE! is on-net with your DSXVOICE telephone system, agents can transfer callers directly to an extension, and users can route calls directly to DSXLIVE! when they are not available. Being on-net also means higher reliability, higher call quality, and transfers that are totally transparent to callers – they have no indication that the agent is not in your office.
DSXLIVE! is completely different from an external service which can only transfer calls to a telephone number.
This means that DSXLIVE! agents can send callers directly to the person they are calling; send callers directly to an extension's voicemail; or place callers on hold, check with the person being called, and either put the call through, or send it to a colleague or a voicemail box.
Automatic Operation
Based on the rules you specify, DSXVOICE will automatically route calls to DSXLIVE!
When your staff can't answer
During lunch, after hours, and any other defined periods
Based on forwarding rules setup on:

Extensions
Ring Groups
Auto Attendants
Call Queues
Etc.
Live Chat on Your Website
Live Chat is becoming a must-have for websites.It allows your visitors to interact with a live agent in real time while they are looking at your site. Answer questions, capture leads and build connections 24/7.
DSXLIVE! provides seamless chat support that is fully integrated with your DSXVOICE telephone system.And, we handle your website chat the same way we handle your calls – using your protocols, terminology, templates and style, to deliver outstanding service.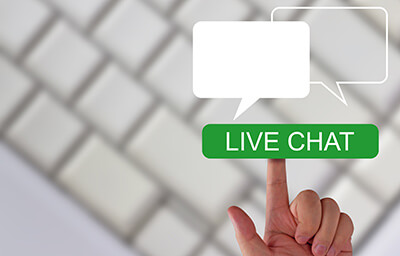 A Seamless Customer Experience
Because it is an integral part of your telephone service, DSXLIVE! works seamlessly with your entire DSXVOICE unified communications platform.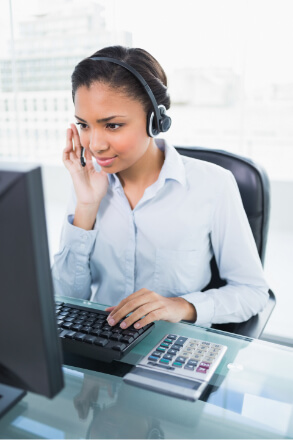 Reception
Transfer callers directly to internal extensions or groups
Transfer callers directly to a team member's mobile phone if they are out of the office
Send SMS and/or email messages to team members, customers or prospects
Sales
Transfer prospects directly to a member of your sales team whether they are in the office or in the field
Send SMS and/or email messages to your sales reps, customers or prospects
Customer Service
Transfer customers directly to a member of your support team based on the issue and priority, whether they are in the office or in the field
Send SMS and/or email messages to your support reps, customers or prospects
Unlimited Service!
Just as your DSXVOICE service pricing is based on capacity, DSXLIVE! pricing is based on scope, not on the number of minutes, number of calls, or number of users.It's simple and predictable – no surprises.